Winter Adventures Around
Butternut Lake LOdge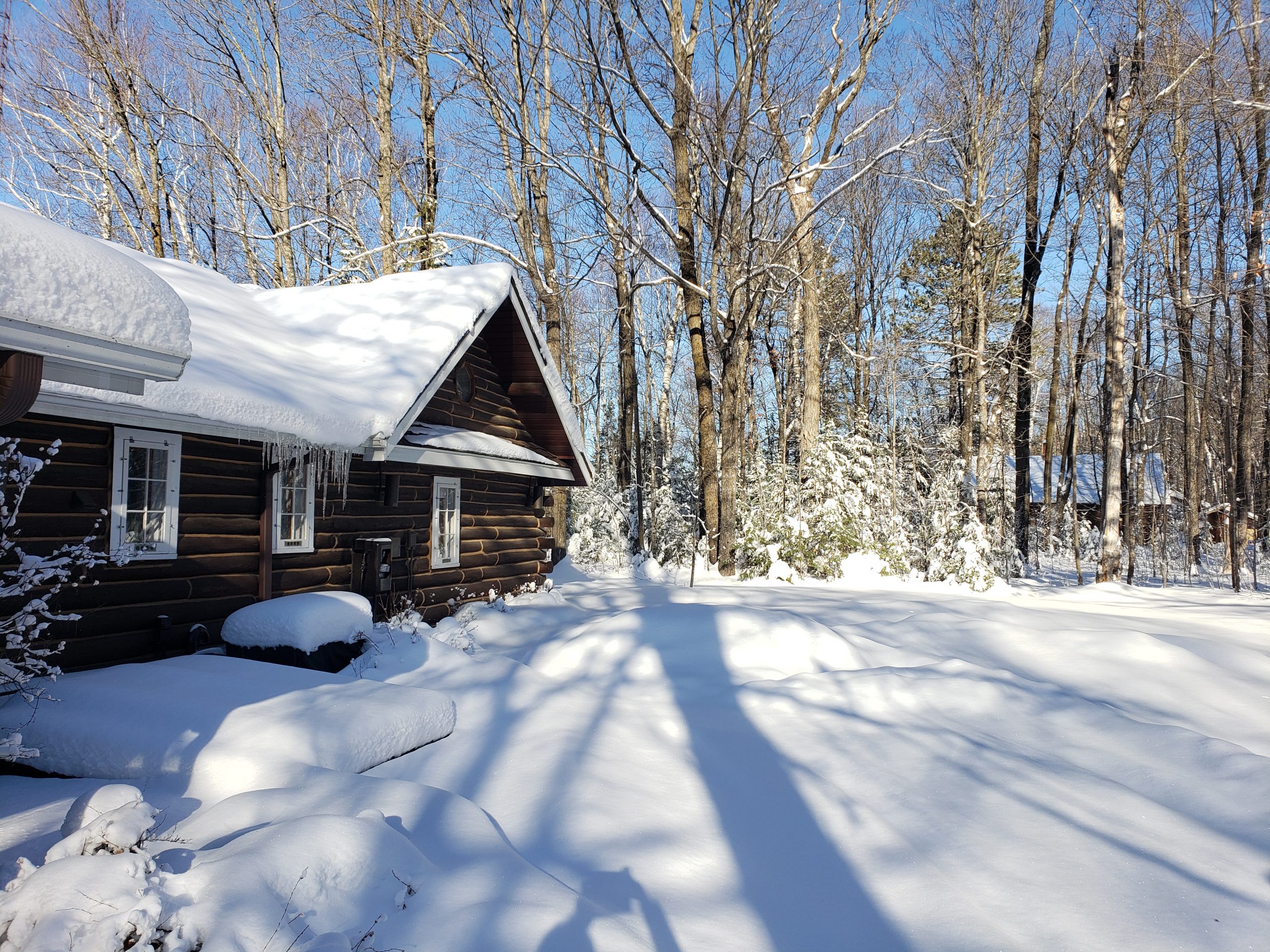 Butternut Lake Lodge is open 365 days a year. If you love winter activities and don't get dependable snow where you live, chances are we have what you're looking for. Average annual snowfalls are typically exceed 5'. It is not unusual to see the first snowfall in October, with dependable accumulation by the middle of December. By the time we reach March, the snowbanks are tall and driveways are like narrow chutes.
Snowmobile trails: Price County and neighboring Ashland County feature 1,000s of miles of groomed trails due to the diligent efforts of local snowmobile clubs. Click here to download a map. We have high quality snowmobile maps available in the Tackle Box - ($2.00 donation, proceeds used to pay for the groomers). Plan out day trips, fuel up your sled and enjoy the incredible scenery of Wisconsin's Northwoods. You may leave Butternut Lake Lodge on your sled, head down Lakeshore Drive, and hop right onto the trail system. Plenty of parking for your trailer on site as well. The City of Park Falls is an AWSC Snowmobile Friendly Community - only 17 communities have received this designation.
Snowmobile rentals: We've had guests rent sleds from Minoqua Sport Rental (715) 356-4661.
Snowshoe rentals: Visit our friends at Silly Goose Silent Sports in Park Falls (715) 762-1970. Head out for a trek on the lake, or get a recommendation for the perfect backwoods hike to match your skill levels from the folks at Silly Goose.
Ice fishing: We are located on one of the best spots on the lake for ice fishing. The deepest spot on the lake is a mere 75 yards from the shoreline, giving you plenty of options to target walleye, crappie, perch, and northern pike. And if you set tip-ups, the Boathouse will be nicest ice shanty you could ask for. If you have an ATV, UTV or snowmobile that you use to haul your gear, you will need to access the lake at Northern Pines. The lake is not accessible by vehicle at Butternut Lake Lodge. We strongly recommend a powered ice auger, as ice depth can be a significant challenge for hand-powered drills. Bait and tackle are available at St. Croix in Park Falls and the Butternut Feed Store in Butternut.
Cross country skiing: The Wintergreen Ski Trails are just outside of Fifield, WI, about 15 minutes from Butternut Lake Lodge. Wintergreen is a very scenic 9.2km trail system that passes through a diverse forest of pine, aspen, birch balsam fir, and northern hardwoods. There is a warming house at the trailhead. Trails are groomed for classic and skate skiing. You may also be interested in exploring the Flambeau Hills Ski Trail outside of Winter, WI. Flambeau Hills is very scenic with views of the Flambeau River and a heavily timbered landscape. Portions of the upper loop and cutoffs on the east side of the lower loop are more challenging. There is a three-sided shelter on the west side of the upper loop. Other opportunities exist in the area, including backcountry skiing.
Cross country ski rentals: Visit our friends at Silly Goose Silent Sports in Park Falls (715) 762-1970.
Hike at Copper Falls State Park: One of the State's most beautiful parks is utterly fascinating in the wintertime.
We are eager to answer your questions and address any additional details about Butternut Lake Lodge.